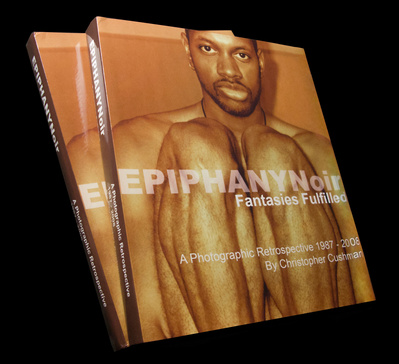 Through New Eyes: The Photography of Christopher Cushman
The Black male body remains an enigma despite its over representation in the public sphere. The dominance of hip hop culture globally, driven in part, but not exclusively by the innovative sounds of rap music have made, Black men a standard by which Black men and other men judge themselves in contemporary culture. However, there is a paradox, because despite the prevalence of hip-hop's popular global impact, Black men are also still some of the most despised men in Western culture. Stereotypes of criminality, disease and danger still abound and organize Black men's lives, even within hip hop culture. Thus representations of Black men tend to be much more restricted, than open-ended. The struggle to bring Black men into complex open-ended representations has been an on-going historical struggle. One of the most potent forms of representation in the last one hundred and fifty years has been the photograph. Photography has offered the promise to represent the real in a manner that has both seduce its viewers and baffled them with its artifice. Black male photographic representations in the last half of the twentieth century and into the twenty-first have promised to rescue Black men from the confines of mis-representation and stereotype. One of the most difficult and complicated circumstances of Black male representations has been in the realm of representing their sexuality. Black men's sexuality is still over-burdened by a perceived threat and danger, especially now in the hyped-up era of the downlow. Then along comes Cushman. I first hear of Christopher Cushman's photography from my boyfriend. He told me of a guy who was taking photographs of black nudes based upon how they wanted themselves to be seen, not how he posed them as his models. When I met Cushman he confirmed that he did indeed work from the models' suggested poses and not impose his own. The idea is a great one because it allows the models agency in choosing what they believe to be an adequate representation of who they are. While it is now true that in contemporary culture subjects have learned to play for the camera, offering us artifice on command, this artifice can be understood as exposing inner senses of self and being. Cushman's photography captures and reveals those inner desires. Look at me, many of the models seems to say. But look at me anew, is also what they seem to project and insist on. Cushman's eye lavishes these Black male bodies with glimmers of light revealing their nuance personalities. While most of the men are naked their individuality comes clearly through. And yet, their eyes too reveal that they belong to a community, a family and possess desires, fantasies and needs. In these photographs, as viewers we are given new eyes to see beyond our inner voyeur. Cushman channels, Robert Mapplethorpe, Rotimi Fani-Kayode and many other artists, commercial and amateur photographers who seek to rescue the Black male body from the disastrous depths of mis-representation, and who almost always fall short. The conversations that his models create between his work and others whether unconscious or not reveal the profound influence of the image in our time. However, in Cushman's eyes the Black male body is not being rescued, instead it stands on a self-made pedestal, not arrogantly announcing its existence but coolly (its signature) singing its own praisesong as swathes of light and behind the camera love washes over it. In each moment a small but significant revelation is made. Each revelation offers us the opportunity of an Epiphany – to think a thought about a Black man that we have not thought before.
Professor Rinaldo Walcott is a cultural critic and Canada Research Chair of Social Justice and Cultural Studies at the University of Toronto. He lives and writes in Toronto.
Copyright 2008
Second Printing/Taking Orders Soon